Who We Are
We want to create an awareness in others that wherever they are in life right now, there is an opportunity to grow and improve. Breadcrumbs is a way to communicate to others that they have the power to change their circumstances.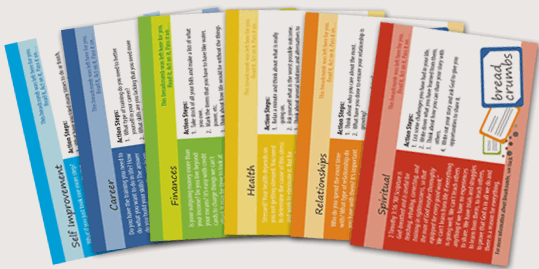 What Are Breadcrumbs
Breadcrumbs are motivational cards (a little larger than the size of business cards) with scriptures, sayings and/or questions that make people think about where they are in different areas of their lives. The information on these cards work to get them back in the moment…make them aware of who they are and look at what is going on in their life right now.
The idea is for people to read these cards and apply them to their lives. They can leave the cards behind for others to read or keep them to pass along later to someone else. Also, they can purchase their own set of Breadcrumbs and leave them in places for others to find.
Where They Go
Breadcrumbs can be left in locations where people congregate. Whether it is a doctor's office or a convention center, a grocery store or a beauty salon, there is an opportunity for someone to pick up a Breadcrumb, read it and take action on it.
Breadcrumbs can make great gifts for people in your church, work or organization.
Make a difference…
…leave a breadcrumb
Why Breadcrumbs
Breadcrumbs serve to make people aware that no matter how bad things may be, there is time to look at where they are now, make a decision to change and act on it…and they have the opportunity to make that change today.
Request Samples
Click here to request free samples of Breadcrumbs cards.